Thank you for visiting the official wiki for Akagami no Shirayukihime! This wikia is a free site that anyone can read, edit and contribute to. Please add any information that you feel needs to be here! Thanks and enjoy!
---
Akagami No Shirayukihime! Wiki currently holds 193 articles with 7,855 edits since January 28th, 2012.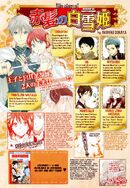 Shirayuki
is a young lady with unique apple-red hair. She is seen by a famous but foolish Prince
Raji
, who falls in love with her at first sight, and orders her to become his concubine. With nowhere else to go, Shirayuki cuts her hair and escapes to a neighboring country. While traversing through the forests, she meets a young boy,
Zen
, who helps her after she boldly cures his wounds but then gets poisoned by an apple given to Shirayuki. Meanwhile, Prince Raji sends out henchmen to search for her. What will happen to Shirayuki? What is Zen's true character? Akagami no Shirayukihime is a refreshing fantasy story between an optimistic heroine and a prince who constantly stays on her watch.

Episode 1:Encounter...Changing

the Color of Fate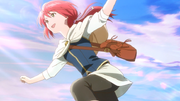 Main article: Episode 1

The episode starts off with a girl (Shirayuki) walking in a forest. The girl comes upon a herb that she was looking for, Spellamiso. She then hears a nearby clock tower ring, as she is alerted that she needs to open her shop. She quickly runs back into town jumping onto rocks and sliding down a grassy hill.
Meanwhile Prince Raji is looking for the prettiest girl in his kingdom to become his concubine. He ask a informant to give him information, the informant responds that Shirayuki is the most prettiest girl in the land, with "exceptionally rare red hair, as red as an apple."....
View more

Interested in affiliating with us? Just message an admin!





 

This Wikia is under construction at the moment. Please be patient if the information that is currently out is not present. Due to lack of editors on the Wikia it's hard to get everything up to date at the moment. Any help would be fantastic!
---
Words from Fans of the Series and Wiki
Merry Christmas and a Happy New Year!
Thank you all for editing it our lovely wiki and for those who visited the wiki. This wiki was created for all official Akagami no Shirayukihime things, and we hope to keep it that way. Have a Merry Christmas and a Happy New Year!
To all Akagami no Shirayukihime fans,
Happy New Year!
Wishing everyone a Happy 2016! Let's continue to make this wiki a informative wiki about all things Akagami no Shirayukihime related! ~
Emilysara
(
Questions?
) 23:45, December 31, 2015 (UTC)
Notice!
Hi everyone! Emilysara here! I am hoping to adopt this wiki soon but I'll need a lot of help to make this wiki look great! The first season of the anime is done so I'll need all the help getting in summaries and quotes! We also need to finish some manga chapter summaries too! If you need some help please contact me on my wall. Look at the pages that are under construction or check out pages that need cleaning to start editing! We need editors!
~Emilysara (Questions?) 23:02, September 23, 2015 (UTC)
Anime
Look forward to an anime adaption coming Summer 2015!
- Jessica (JGE495) 01:04, February 20, 2015 (UTC)
Message
Hey guys! Wow, has it been 2 years already? Time flys by. I just wanted to say thank you to all those who are helping out. I'm going to be back for a bit to help clean up a few things as I unfortunately forgot about all this. School aye? Keep up the hard work everyone! Don't forget to sign up to keep track of all your contributions.
- CharlotteEstelle 00:39, May 28, 2014 (UTC)

If you could take the place of a main character who would it be?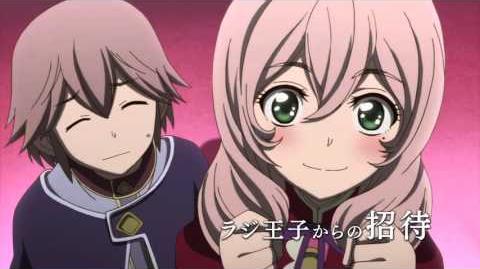 Ad blocker interference detected!
Wikia is a free-to-use site that makes money from advertising. We have a modified experience for viewers using ad blockers

Wikia is not accessible if you've made further modifications. Remove the custom ad blocker rule(s) and the page will load as expected.