This page is currently under construction.
Please help us expand this article by editing it.
This article requires a clean-up
Please edit this page to improve it. Feel free to discuss this cleanup on the article's talk page.
It's where the royal family of Clarines lives. It has 3 herb gardens, a herb storehouse
Blue Council Parliament Room
Edit
it has a water Chanel system that gives water to it plants in the gardens.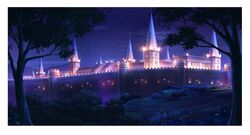 Click here to view the gallery.